August – blomsterhav, terrasse og soveværelse
Blomsterhav.
Haven i august. Min augusthave trænger til lidt tilretning. Sommerblomsterne er generelt blevet meget voldsommere og langt højere end forventet. Mine cosmos er plantet i for store grupper – og for langt fremme i bedene i en forventning om, at de kun blev ca. 60 cm. høje. De blev meget kraftige og tæt på 150 cm., så nogle steder har jeg helt fjernet dem – andre steder er de blevet klippet ned i en mere harmonisk højde.
Tilsvarende med gulerodsblomsterne. De er så smukke, og går så godt sammen med roserne, men jeg har undervurderet deres højde og plantet dem for langt fremme. De skal spredes lidt mere til næste og og rykkes længere ind i bedene.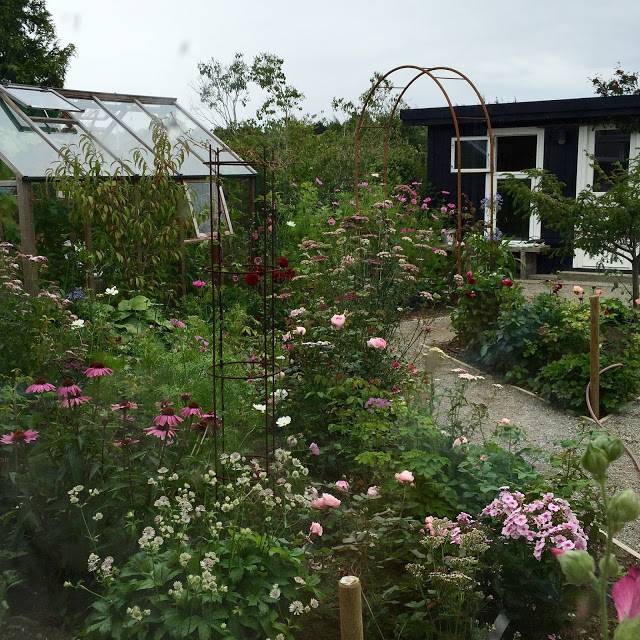 Terrassen.
Terrassen er færdig for denne omgang. Den ligger sydøst-vendt, men jeg er lidt i tvivl om, der er nok sol i hjørnet til roser. Men jeg prøver. Har plantet en Alchymist (som man dog åbenbart ikke kan se på billedet), som jeg vil kombinere med noget andet. Måske nok en William Morris, som jeg lod mig inspirere af på Lottes Instagram profil – lotteslillehave. Den er så smuk og blomstrer længere end Alchymisten.
.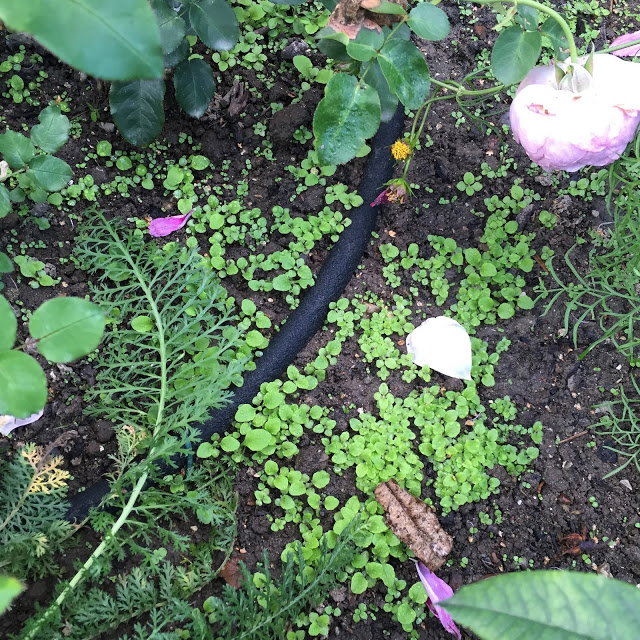 Sådan ser bunden ud i de fleste af mine bede. Jeg er vild med Digitalis – og da jeg i udgangspunktet ikke synes, at man kan have for mange af dem, har jeg gjort mig umage med at ryste alle de visne frøstande over mine bede. Jeg havde dog ikke regnet med en spireprocent på 200 – så hvis nogetsom helst skal have en chance i bedene til næste år – så må jeg hellere tynde lidt ud i dem. Næste år kan jeg nøjes med at gøre mig knapt så meget umage. Men altså – det er jo i virkeligheden bare et luksusproblem.
.
Soveværelset.
Soveværelset er endeligt færdigt. Igen med kæmpe tak til min nabo, der har hjulpet mig med at skære til og slæbe store plader. De rå finer-plader skal forblive rå. I hvert fald indtil videre. Det er lidt ligesom at lægge puslespil. Præcision og tilpasning. Men jeg synes, det er blevet så godt. En god kontrast til gulvet, som er malet i støvet aqua, som i resten af huset. Den store (tunge 🙂 politimand, der bor længere oppe ad vejen fik dog stået på det lidt for tidligt. Så jeg har et fint fodspor i malingen – men det er heldigvis under sengen, så pyt. Giver ikke male gulv mere lidt nu.