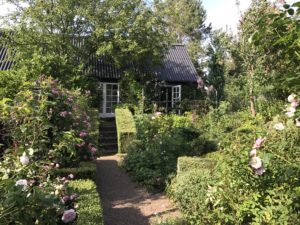 Gardening by Hall har været på inspirations-familie-tur til Anne Justs Have – Haven i Hune.
Haven er virkelig et besøg værd, hvis man interesserer sig for haveplaner og havedesign.
Anne Just anlagte haven i strid med al sund fornuft, da jorden er dårlig på stedet og haven udsat for vinden fra Vesterhavet. Alligevel er det blevet en af de allermest kendte og smukkeste haver i Danmark. Det vidner om hendes utrolige idérighed og gåpåmod. Hun var en kvinde, der ikke tog sig af lidt modstand. Og det kom der en helt usædvanlig have ud af. Haven har dannet ramme for flere udseendelser på DR, som nogen gange kan findes i DR's arkiv – og på YouTube. Personligt har jeg set alle programmerne mange gange. Udover, at man lærer en masse, så er der også en skøn stemning i dem, båret af Anne Justs store personlighed.
Der er så mange interessante detaljer i haven, som har inspireret mange haveejere landet – og verden over. Jeg har selv ladet mig inspirere af mange ting i haven. Det er altid en god idé at tage ud og besøge andre haver. Også selvom de ikke alle er lige store eller kendte. Man ser altid en eller anden god idé, som man kan bruge i sin egen have.
Det var en fantastisk tur. Du kan læse med på nedenstående link:
http://www.havefolket.com/2017/08/pa-havehotel-i-haven-i-hune.html